Need-4-Seat Review
Today, I am doing something that I rarely do today, a product review of the Need-4-Seat script. Need-4-Seat is a poker script that helps find tables for you. Why does this product matter to serious poker players? Because poker scripts are an essential tool for table selection in today's poker games. Poker scripts are rampant on all major networks in today's poker games, and not having one may leave you at a competitive disadvantage. Regardless of your personal viewpoint on scripts, they are everywhere in today's games, and having one is extremely helpful.
Need-4-Seat Breakthrough
Whatever you think about "scripting", it is hard to argue that need-4-seat is pretty darn cool. Table selecting has always been time consuming and at times frustrating. When I first played stated playing poker, table selecting involved looking at the lobby for a high pot average pot avg and/or a high % to flop. Another table selection technique that was highly successful 5-10 years ago was I using the find a player box to help get you the jesus seat every time. Today, scripts have changed the poker environment significantly. Poker scripts grab the vast majority of the seats at tables with weak players. This is particularly the case at high stakes where it is virtually impossible to get a seat without a script at many major networks. Need-4-Seat allows you to focus on playing poker again and not have to worry about missing out on weak players.
Why Winners Need To Table Select?
I have talked extensively about Table selecting in the past – it is and always will be a critical component in the strategy of winning poker players. Why? As we know, poker is a zero sum game with a significant rake and when all players at the table are at a similar level, they will all lose to the rake. As you all know, I am a huge believer in Exploitive NLHE, which is why I wrote a book on it. In order to win you need to be significantly better than your competition, and this means you need to table select.
Need-4-Seat Helps You Table Select?
Need-4-Seat software is pretty incredible because it allows you to monitor tables on multiple sites for unidentified and weak players. When an unidentified player or a player marked green sits at a table it will automatically seat you as close to the left as possible from that player. You can change the default settings to have you automatically seated in whatever position at the table you want. Obviously, it makes sense to try to get the jesus seat or as close to possible to the jesus seat.
Need-4-Seat May Improve Your Mental State and  Winrate
Independent of the fact Need-4-Seat can help you get more good tables to play on, it also may have the cool side effect of helping you play better. Why? Because table selecting can be frustrating, tiring, and may reduce the quality of your play. I know many players who have said table selecting is the most frustrating part of playing this game, and I have experienced this personally in the past. Jared Tendler might even classify it as "table selection tilt", lol. Eliminating the frustrating aspect of table selecting can definitely help your mental state and winrate.
How Need-4-Seat Works?
All you need to do is bring up tables from the lobby that you want to monitor. Once you have done that the Need-4-Seat script will "capture" the tables and monitor. After you are setup all you will need to do is hit the "start scan" button in the top left corner and bring up the tables you want to watch.
You are able to designate where on your screen you want the tables to pop up if an unidentified or weak player is seated. This is obviously a huge benefit for players. Need-4-Seat does not falsely alert you to tables that just have a bunch of reserved icons on them (a problem at high stakes). There are many smaller features that allow you to customize exactly how Need-4-Seat works, but I have found them to be largely unnecessary where I play. However, some of these are network specific.
Need-4-Seat Custom Settings
The setup of Need-4-Seat was super simple. Once I paid for the software and received the license it was a seamless process. For serious users of this software there are also a whole range of customizable features – see below. Notice there are some client specific options (for Stars, Party Poker, etc). The settings also allow you to focus on tables with just 1 player, 2, 3, 4 ,etc. The hotkeys are another cool feature that are especially valuable for players who mass multi table. This program is tailored to serious poker players, and the amount of thought that went into its production clearly shows.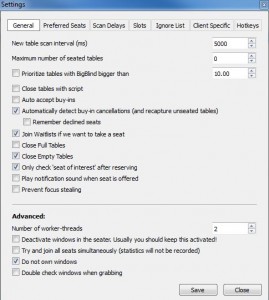 Who Would Buy Need-4-Seat?
This software is especially beneficial for players at the highest stakes games where tables are hardest to get. However, I think it is also a huge asset for low stakes players. In particular it is useful if you are trying to play multiple low stakes games and don't have time to table select. This program allows you to keep more games running and is priced lower for low stakes games. The creators of the product have priced each network differently and a higher stakes license costs more than a lower stakes license. This makes perfect sense since the value of this product is greater for higher stakes players (hence they should pay more).
Is Need-4-Seat Fast?
Yes. Overall, I have been very impressed with the the speed of this script – this should not be a concern at all. You can get a free trial and see for yourself. Let me know if you are disappointed, I would be very surprised.
Need-4-Seat Pricing
This is what you have all been wondering about :). Yes, having all of these features in a seamless program isn't going to come cheap. I think the product is expensive but also reasonably priced. As you can see the pricing varies between 80 Euro and 250 Euro monthly depending on what stakes you play. If you want a license for stakes levels over $500 NLHE it costs 250 Euro monthly otherwise it is only 80 Euro. This may seem like a significant amount, but if you think of it in terms of big blinds it really isn't that much. 80 Euro is only 40 BB at 1/2 NLHE.
Need-4-Seat Customer Service
One of the requirements for a program like this is exceptional customer service. Poker clients often undergo software updates and when they do programs like this often malfunction. I have had this occur numerous times with poker software like Poker Tracker, Hold'em Manager, etc. Need-4-Seat has exceptional customer service which is knowledgeable and also very personal. Again, I think you will be impressed.
Rating Need-4-Seat
I think the program deserves a 5 star rating. This program does exactly what it promises it will do. It can't fix your game, but if your game is already good it can help you find some tables to play :). I definitely recommend it and think it is worth the money if you are playing on a frequent basis. If you would like to get started with a free trial simply go to their website (Need-4-Seat) and sign up. If you have any hiccups their customer support is very helpful.
Special Discount
This is a PokerCapitalist Exclusive. When you get to the purchase screen enter PokerCapitalist2016 in the coupon field and you will receive 25 Euro off your purchase.
Good luck!
-ThePokerCapitalist
(Visited 566 times, 1 visits today)






by