Vancouver Poker Living
Vancouver has to be close to the perfect city to play poker in. I was recently reading some blogs written by poker players overseas and I realized just how fortunate I am to live and work in Vancouver. If you are considering playing poker professionally in Vancouver, I've put together some information you should know.
Take a bike ride around Stanley Park on the sea wall and you will instantly fall in love with the beauty of the city. Here is a picture I took in Coal Harbour (close to where sea wall starts) during a summer sunset. That view isn't cheap though as it will cost you around $2400 a month for a nice 2bdrm with floor to ceiling windows in a modern building with gym, etc. I'll talk more about accommodation later in the post.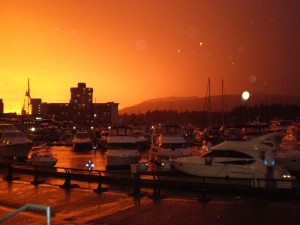 The mountains on the north shore (just a few miles from the city) rise up dramatically offering incredible skiing/snowboarding all throughout the winter. This is a picture of me snowboarding at Whistler (one of the premier Skiing destinations in the world and a 1.5 hour drive from Vancouver on the Sea to Sky Hwy#1). In this photo I am up in the bowls of Whistler mountain. As you can see plenty of fresh powder…..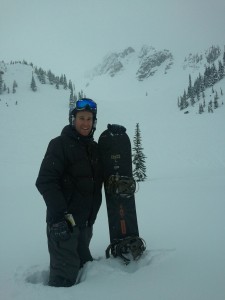 During the summer there are incredible hikes to be had on the north shore and a very cool (and free!) suspension bridge at Lynn Canyon. You can get some great views without the snow.
Vancouver is also one of the cleanest and environmentally conscious cities in the world. Add to that incredible geography and one of the most sophisticated urban planning operations on the globe and you have a very slick city.  There are bike lanes interlaced through much of the city so transportation by bike is very convenient. At the Fairmont hotel downtown they even offer Bike Concierge service for guests of the hotel since it's a fantastic way to get around the city core.
Playing Poker In Vancouver
Let's talk about the poker side of things. Vancouver poker is solid. Most major networks allow you to play out of Vancouver/Canada. Take your pick of PS, IPoker, Bodog, etc. One advantage is that if you choose a European network yoyr working hours will be much better in Vancouver. There is a nine hour time difference between Vancouver and Geneva, Switzerland. So you can be playing between noon and 3pm here on the west coast and that is like 9pm-midnight. That makes for some very convenient hours.
The live poker scene is pretty solid in Vancouver. In the Vancouver poker scene you will find two major casinos. Edgewater is located right in the heart of the city by Yaletown and is directly across from Rogers Arena. The other major casino where the BC Poker Championships occurs every year is the River Rock, which is in Richmond (where the international airport is). It's about a twenty minute drive into the heart of the city from there. The River Rock is a great place to play around Chinese New Year and they consistently run a deep $2/5 NLHE game that plays more like a $5/10 game. During the BC Poker Championships, they have a high stakes room with a very juicy $10/25 NLHE game as well as a big $10/20 PLO game. The $10/25 NLHE game often has several $10k stacks playing in it. It is a $3k minimum buy-in. I have played in it a couple of times and it is very juicy.
Internet
You can expect very high quality internet service in Vancouver and should not have to deal with disconnects. For around $40 per month you can get great service with Telus. Shaw is good as well. For poker you will not need to upgrade and get their higher speed service. The basic high speed connection is already plenty fast and reliable.
Poker Housing Vancouver
If you are thinking about moving here there are a few places to consider. Kitsilano is a great part of the city just across the Burrard St bridge from downtown. This is an interesting part of the city because real estate is very expensive, but there is some relatively low cost accommodation in the form of basement rentals. Traditionally, this has been a bedroom community for the University of British Columbia (a very strong University if you are looking to take classes). Kits beach is a huge attraction in the summers and you can find a basement 1bdrm for right around $1000 per month. It isn't going to be super fancy and will probably be in an older character house (tri-plex), but the area is very convenient and relatively inexpensive. I would highly recommend this option so long as you are ok with a basement unit. This kind of accommodation is very common in Vancouver as landowners need some income to help pay their mortgages. Houses in this area go for between $1.2-3million Canadian dollars (roughly equivalent to USD).
If you prefer a high rise building and want a nice view, expect to pay around $1400-$1600 for a 1 bdrm unit. 2bdrms will be somewhere between $2,000-$2,500 for a nice one downtown. Within downtown, I would recommend "Yaletown" and the "West End". The West End is closer to Stanley Park and has a great beach area. Here is a picture of the West End in the summer.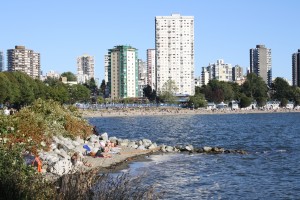 Anything west of Burrard is generally categorized as "West End". This area is a little less expensive in general because the buildings are not all new. Yaletown is the chic modern part of the city and a bit closer to nightlife. You'll pay a bit more to live in this area and generally the units are bit smaller because it's newer construction.
Another great place to go if you are looking for lower cost accommodation, but still want some great commercial options, is the Main St corridor. There are plenty of cool little shops and restaurants over in the Main St area. Main St serves as the divider between East and West Vancouver. Generally, as you head further east things get cheaper. Housing is significantly cheaper in this area and it has a cool vibe. Craigslist is a great way to find your housing and BC has very strong tenancy laws so you shouldn't have to deal with a bad landlord.
How To Get A Car In Vancouver
There is a really cool Car2Go service available for getting around the city of Vancouver. It allows you to pick up a car anywhere in the city (you can see where they are on a convenient app) and drop it off anywhere within the boundaries allowed (covers most of the city). This won't work if you want to go on a day trip, but is awesome for getting around the city. It costs roughly 40 cents per minute but that includes everything, even gas. All you need is a Drivers License and a credit card and they will send you out a card in the mail. These cars are all over the place in the city so I would not worry about getting a car if you are moving here.
Phone Service Costs Vancouver
Cell phone coverage is a bit expensive in Canada. Expect to pay $70 a month for your cell phone with a decent data plan (2gb per month). That should get you close to unlimited calling time anywhere in the country if you choose the right carrier. VirginMobile is a bit better than the big ones in Canada (Rogers).
Dining Option For Poker Players In Vancouver
There are plenty of great restaurants in Vancouver. Because the city is so diverse you see a variety of amazing cuisine. There is an incredible Indian restaurant called Vij's that was featured in the NYT (about $30 for a main). Tomo's (on Broadway) has some very high quality sushi. One of my personal favorites is Trilussa Pizzeria on Main St which has an authentic Italian owner/operator (this isn't high end but it is good). One thing to prepare yourself for is to pay a lot for alcohol if you are dining out. Generally, the Canadian government taxes alcohol heavily so a pint will run you $6 at a pub, and don't forget about the "liquor consumption tax" which will add a few percent to your bill at the end.
Lifestyle
Vancouver is an incredibly green city. With bike lanes that run all through the city, high end parties having bike valets, and the Fairmont Hotel's popular "bike concierge," you can get almost anywhere with a bike and some Lululemon gear, lol. Vancouver is home to some of the best urban planning in the world and combined with its green bins and general cleanliness the city is one of the most livable on the planet. It seems there are health food stores, yoga studios, and organic butchers on every corner. If you are interested in embracing a healthy lifestyle Vancouver is a great city for you!
Nightlife
This really isn't what Vancouver does best. On Granville St and in Yaletown there are a number of somewhat trendy places to go out and party at. However, I have to say the nightlife in Vancouver does not compare to what you would find in Vegas or NYC.
Poker Players Travelling To And From Vancouver 
The airport is very convenient for transportation to major destinations in the US and the world. There is a great Cathay Pacific flight that will take your directly from Vancouver to NYC or Hong Kong that runs daily. There are also convenient daily non-stop flights to London. From those hubs you can go virtually anywhere in the world. If you are headed to Vegas to play poker there are non-stop flights for around $400 that also run daily. Non-stop to LAX will run you about $300.
Weather
One downside of Vancouver is you do get a solid amount of rain during the winter months. But more than any other city I have lived in you truly experience all four seasons in Vancouver. There are only a few days every year where the temperature dips to freezing or just below. Normally, if we get snow in the city it never lasts for more than a day or two (the mountains are a different story). Local mountains a 30 minute drive away have skiing for several months every year and receive plenty of snow. Nov, Dec, Jan, and Feb get a lot of rain and the days are short with darkness descending around 5:30pm. If you plan a vacation during these months and ski plenty during the winter (night skiing is available) it flies by, and then you have the incredible summer to look forward to. Spring and fall are cool but not too cold and a light jacket should work most days.
Bottom line is the Vancouver poker scene is awesome! Hope you guys enjoyed the blog and found some useful information! Let me know if you have any comments or questions and please check out the product page of my new book "Exploitive NLHE".
-ThePokerCapitalist
P.S. if you have a dog and need pet care in Vancouver Gofetch.ca is pretty cool too :).




by